Hello!
I haven't posted in a long time as I have been REALLY busy with assignments and school work. Now I am counting down to our Spring holidays - only one week to go!
This weekend my family and I went to the city to do some shopping. We got a little sidetracked and decided to go and have an ice-cream! Naturally, I had to photograph the moment as it was perfect for the latest
Kids Click
theme, 'Delicious'.
Image taken by me, Maddy, aged 13.
Thank you for having me, Simoney!
Big Al certainly enjoyed his ice-cream, which was caramel flavoured. I loved mine too, which was chocolate and caramel.
All this sugar eating got me inspired to post a song about sugary sweets, and the song
Sugar Sugar
by The Archies was the perfect choice. I originally didn't know of a song about sugar or ice-cream, so my Mum suggested this song. Upon playing it, I recognised it from the
Bee Movie
.
The Archies
are
virtual
garage band
formed by
Archie Andrews
,
Reggie Mantle
and
Jughead Jones,
a group of
fictional characters
from the animated TV series,
The Archie Show
.
Ron Dante,
Betty Cooper and Veronica Lodge performed the vocals for the characters.
Sugar Sugar was the 'group's' most successful song,
becoming one of the biggest hits of the
bubblegum pop
genre of 1968 to 1972. It reached
number one on the
pop charts
in 1969, sold over six million copies and was awarded a
gold disc
.
It was ranked in
Billboard
's
Hot 100
as the number one song of 1969, the only time a fictional band has ever claimed this spot. I can see why the song was so popular, because the beat and words are very catchy.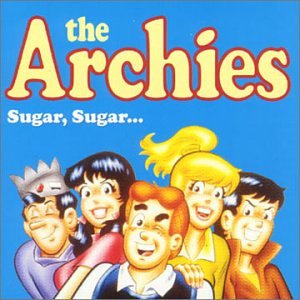 I hope you like Sugar Sugar as much as I do, and that all the adults out there enjoy reminiscing about the days of The Archies as much as my mum did...
Linking with my Mum's Sunday Song linky party.
Thank you for having me, Mum!
Well, thank you for visiting my blog! Please come back soon!
I hope your day is sweet,